This TK 6 string MIDI/electric cello was custom built for Alex Simpson in the UK
The instrument (seen here) is loaded with high end custom features like an RMC Piezo Polydrive midi system and a high end Bogen tripod system.
This TK Electric/MIDI capable 6 string Cello features a Purpleheart bound Macassar Ebony fingerboard, 5A flame maple neck, Purpleheart top with an African Mahogany body.
The strings are tuned low to high: F-C-G-D-A-E
A large part of this instrument's phenomenal tone comes from the
RMC
Polydrive II Cello pickup system.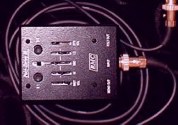 The Polydrive II drives a multi (individual string) output for Hex/Midi devices; such as the Zeta violin MIDI system or Roland VG-systems.